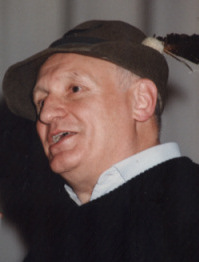 Giuseppe Scaioli born in Lecco in the 1934, cultivate from his youth the passion for the music and in particular manner for the clarinet's study, instrument wich he has degree with the master Eugenio Nicotera at the conservatory "Giuseppe Verdi" in Milan.

His interest about the choral sing ed the instrumental music stimulated him to study composition and vocal technique with the masters Alberto Soresina and Guido Camillucci; band instrumentation with the masters Ugo Turriani and Attilio Rucano.

In the 1958 he was one of the founder of "Coro Grigna" in Lecco where gain attention like director, armonizer and composer; he harmonize on own and various artists text; particular interest thake some poetry from Pather David Maria Turoldo done after he dead.

The simple harmonization of the "trenta canti degli alpini" (thirty alpine soldier songs), recorded by the Coro Grigna are one of his best work. He is a convinced assertor of the simple language of the Popular Song like comprehensible instrument for one basic musical culture. In hugary and Sweden he obtain significant recognition like chorus and band director.

Is part of commission of judgment in choral competitions and festivals, direct the Grigna Chorus, teach Clarinet and theory and solfeggio. He compose and instruments musics from various writers and from the liryc-synfonic repertory.

Direct the "Universitá degli Anziani" (olders university) chorus in Lecco.

He dedicate part of it's free time to meet older in asylum offering offering them not only the hearing of the choral music, liric and instrumental but also a sincere moment of musical and human friendship.

He bring also his choral experience to the elementary schools teaching the childrens at a correct respiration choral sing technique, having back favorable applause from teacherr and students.